Mentors' Mantra
SMBConnect In the News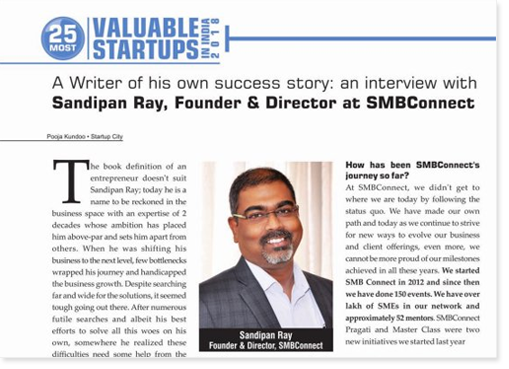 Mr. Sandipan Ray- Director, SMBConnect has been extensively covered in the 'Startup City' magazine and SMBConnect has been conferred a premium rank in the list of top 25 valuable start-ups.
Womanpreneur
The woman who broke stigma around lingerie!
Neha Kant
Founder Clovia
Before donning the entrepreneurial hat and starting up Clovia, Neha Kant was pivotal in setting up and growing the e-commerce business for the India Today Group, and had a short stint as Head of Digital Marketing for business verticals of the Smile Group...
read more...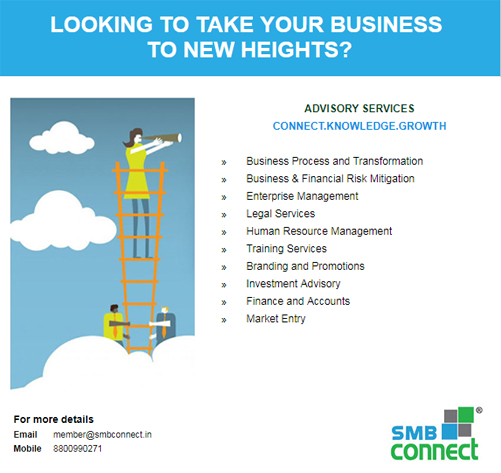 Quote of the month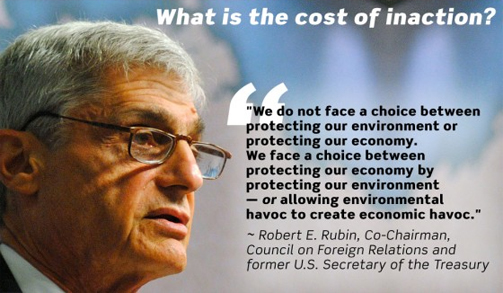 VideoConnect
Get insights on the topic "Unleashing Entrepreneurship and Innovation: What do SMEs need to grow and prosper?" from Hitendra Soneji, Director- Will to Win at an exclusive session of Start Manage Expand Season 4, Vadodara


From the Director's Desk
Co-perceiving Business Resilience and Environmental Sustainability

I have increasingly come to believe that despite significant economic progress, corporate sustainability has arrived at crossroads. In one direction, businesses are sacrificing environmental responsibility at the altar of profits. In the other direction, a handful of SMEs are
demonstrating that business goals and environmental protection are not antithetical to each other and that environmental sustainability can be a driver of innovation, efficiency and lasting business value.
Even though SMEs' individual environmental footprint may be low, recognising the fact that SMEs make up for 45% of India' s GDP, their aggregate impact in many respects exceeds that of large businesses.
Over the years, I have observed that in most cases, businesses lack the awareness of their environmental impacts as well as the understanding that higher environmental performance can be a competitive advantage. They are often unclear about what it means to operate in an environmentally friendly way, how they can do it and at what cost. Other barriers to green practices among businesses in India include poor access to finance, complex administrative procedures, lack of environmental skills, technical incompetence and lack of government support and incentives.
However, since the rate of depletion of environmental resources is far exceeding the rate of their replenishment, to ensure sustainability, SMEs need to adopt integrated lean and green manufacturing, as this can address both economic and environmental concerns.
My recent observation has confirmed that a positive sign is beginning to emerge in the Indian SME ecosystem wherein young entrepreneurs are spearheading the silent green business revolution. Production of solar panels, fuel efficient vehicles, eco-friendly stationary, sanitary pads, green building products, air purifiers and organic beauty products are some of the segments in which Indian businesses have made definite strides.
Indian government launched 'Zero Defect Zero Effect' policy to encourage MSMEs to manufacture goods in the country with "zero defects" and to ensure that the goods have "zero effect" on the environment. In my opinion, government can further bolster SMEs by supporting green public procurement, green certifications or eco-labelling, by dolling out subsidies and tax cuts for green businesses and by encouraging implementation of environmental management systems.
We, at SMBConnect, believe that there is a compelling need to view business and environmental sustainability as being complementary rather than being as supplementary to each other because while business kinds, practices and goals may differ, the earth is what we all have in common.
Best Wishes,
Sandipan Ray
Director, SMBConnect


Ask Guru
Industry focus
»
Plastics ban in Gujarat may kill over 2000 SMEs: GPMA
The plastics industry in Gujarat is expecting to face a crisis after the ban, with over 2000 SMEs on the verge of closure in several cities, according to the Gujarat Plastic Manufacturers Association (GPMA).
»
CRM Software: A guide to how SMEs can boost its customer relations
CRM - or Customer Relationship Management – of late has made significant inroads in a lot of businesses. From being a mere sales and marketing tool for organisations, it has covered a lot of ground to be recognised as a standard business process today.
»
Relief for MSME borrowers, get temporary loan-repayment breather
The Reserve Bank of India (RBI) has given a temporary loan-repayment breather to all micro, small and medium (MSMEs) that have been affected due to implementation of the Goods and Services Tax regime.
»
Agarbatti industry's export nears Rs 1,000 crore in FY18
The Indian Agarbatti industry has been growing manyfold since the past few years and it has touched a revenue of Rs 965 Crore in FYI 18 in exports, up from Rs 798 Crore in FY 15. Gulf, Europe and Africa are the top three leading markets for Indian Agarbattis. The driving force for this growth has been an increased inclination in these regions towards meditation, which has made usage of agarbatti an important aspect of their daily lives.