Mentors' Mantra
From One Stepping Stone Onto The Other

Ambarish Gupta, Founder and CEO of Knowlarity - India's largest cloud telephony service provider, gives voice to more than 15,000 customers daily. Like it is in many entrepreneurial journeys, there is much more to this scale than what is immediately apparent...

Read more...

Womanpreneur
The Woman Who Gives Wings to Writings
Mita Kapur
Founder - Siyahi
Mita Kapur's Siyahi is colouring the lives of scores of writers and editors looking to publish their works. Established in 2007, Siyahi is a literary consultancy firm operating with ...
Read more...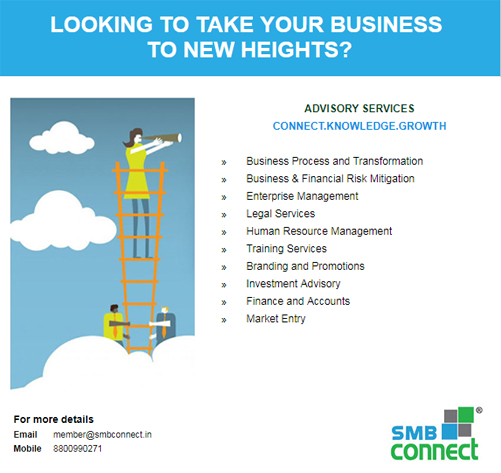 Quote of the Month
VideoConnect
Get insights on 'Managing Employees- Making the HR Game Strong' from Samir Parikh, MD & CEO- Naman Integrated Management Services Pvt. Ltd.

Core Work Skills that SMEs Should Look For?
Broad Skill Category
Core Work Skills
Learning to learn
» begin, follow through and complete tasks  
» manage own learning » adaptable » works safely
» is willing to learn » uses time efficiently without sacrificing quality
Communication
»  write effectively in the languages in which the business is conducted
» listen and communicate effectively » read, comprehend and use materials, including graphs, charts, displays
Team Work
» interact with co-workers » understand and contribute to the organization's goals » work in teams or groups » lead effectively » mobilize a group for high performance » accountability for actions taken
Problem-solving
» solve problems independently » ability to identify and suggest new ideas to get the job done (initiative) » collect, analyse and organize information (planning and organization) » ability to plan and manage time, money and other resources to achieve goals

From the Director's Desk
Gearing Up for Start Manage Expand Season 5

We, at SMBConnect, strongly believe that SMEs are essential complements to digital transformation. The changes brought about by the digital age mean that geographic boundaries are no longer the costly barriers to trade and communication that they used to be.
Technology is poised to deliver a radically new system of commerce. By 2020, SMEs will see much of their business depend on their ability to create digitally-enhanced products, services, and experiences.

Inspired by these developments and the infinite opportunities that exist for SMEs in the digitally-powered environment, and by the commendable success of the past seasons, SMBConnect is back with Season 5 of its flagship Start Manage Expand Series with a renewed vigour and enthusiasm to assist Indian SMEs in their journey to becoming 'digital natives'.

Start Manage Expand Season 5, slated to commence from August, will cover major SME clusters across the length and breadth of the country by December 2018. This year's event series boasts of a prolific speaker line-up of eminent industry experts, business leaders and entrepreneurs who will address over 3000 delegates on key issues concerning SMEs.

After prolonged deliberations, research and keeping in mind the contemporary needs of the SME industry in India in the ever-dynamic technology landscape, we zeroed in on 'Blueprint for Digital Economy' as the theme for Start Manage Expand Season 5.

The event series will help SMEs become the launch pads of digital transformation. It will enable them to navigate digital economy by focusing on four pillar technologies- big data & analytics, cloud, mobility and social. To leverage these four pillar technologies optimally, Start Manage Expand Series Season 5 will empower SMEs through Innovation Accelerators to help them capture growth in the rapidly expanding digital economy.

In addition to key notes, panel discussions and demos on the theme, Start Manage Expand Season 5 will also lay due emphasis on the importance of personal branding for SMEs to thrive in the competitive market. In my view, brand building is a necessity rather than a luxury for SMEs. Businesses are often rendered incompetent because of their inability to build their own brand simultaneously while operating their business. We have designed the agenda of season 5 in such a way so as to help SME businesses become a formidable brand with their own business identity.

Season 5 will also focus on how 'Zero Effect, Zero Defect' model of the government can help SMEs in moving up the value chain and produce quality products using clean technology. Through our event series, we also aim to chart out a roadmap for SMEs to leverage untapped markets in Latin American, African and South-east Asian countries.
I invite you to join us to witness the series unfolding in your city and look forward to your support in making this series a grand success!
Best Wishes,
Sandipan Ray
Director, SMBConnect


Ask Guru
Industry Focus
»
Even Amazon is feeling the strain from delivery demand, wants hundreds of small businesses to help
Amazon.com Inc.'s call for entrepreneurs to help expand its package-delivery network is a cry for help.
»
Snapdeal introduces Instant Sign-up for sellers
Snapdeal on Wednesday launched Instant Seller Sign-up feature to offer a seamless on-boarding process for sellers on its platform.
»
SME IPOs garner Rs 825 crore in April-June quarter
Small and medium enterprises (SMEs) raised a staggering Rs 825 crore through initial public offerings in the first quarter of 2018-19, more than two-fold jump from the preceding financial year.
»
Social Welfare department to mentor 5,000 rural entrepreneurs
Giving a new dimension to its social welfare scheme, the government has decided to identify and mentor 5,000 rural entrepreneurs by roping in major retail players operating in the state.
»
Siemens flags-off 'Ingenuity Tour' to boost technology adoption by SMEs in manufacturing
Siemens Limited flagged off and launched one of the largest industry initiatives, the 'Ingenuity Tour' from the iconic Kalwa factory located on the outskirts of Mumbai recently. The tour is mobilised in the form of a road show that will cover 23 states, 120 cities and travel more than 30,000 kilometres.
»
Alternate lending platforms are fixing India's financial inclusion problem, becoming enablers for SME funding
On June 27th, the world celebrated UN Micro, Small, and Medium Enterprises (MSME) day for the first time to pay its respects to the small companies that are the backbone of most economies worldwide,...
SME Training and Development – Key Success for Small Businesses


Deeksha Shivhare
Broad economic trends such as globalisation of the economy, technological progress and the trend towards a more knowledge-based economy have altered the nature of challenges that SMEs face today...
Read more...